1st National Family Drug Support Day
24th February 2016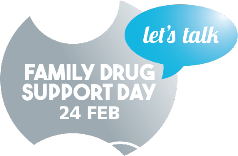 The inaugural National Family Drug Support Day will be held on Wednesday 24th February.
The event will be celebrated at Parliament House Canberra at 10am and there will be other State events held around Australia. For updated details on all events go to: http://nationalfdsday.fds.org.au
Drugs affect all members of the community but it is the families and drug users themselves who bear the brunt of the problems. The National Day will deliver some key messages for affected families.

Read More...