A course for families and friends supporting someone with drug and/or alcohol problems.
Winner of 'Excellence in Prevention and Community Education' - 2009 National Annual Drug and Alcohol Awards.

Stepping Stones is a structured, interactive and experiential course that brings people with similar challenges together.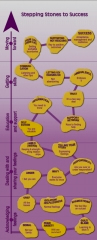 The collective wisdom and experiences of the group is used to work on finding new ways of coping.
The goal is to turn crisis into coping and help you change and regain your own life.
Click on the image to view the Stepping Stones course brochure.

Stepping Stones to Success Brochure
For further Stepping Stones course enquiries please

This email address is being protected from spambots. You need JavaScript enabled to view it.

.