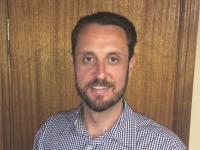 Brendan commenced with Family Drug Support in January 2018 as South Australian Family Project Officer.

Brendan was born in Brisbane, QLD and has also spent time living in the UK, Indigenous Community in North Queensland and more recently SA.

Brendan has a Bachelor Degree in Human Services and has also undertaken a number of therapeutic industry courses. Family and carer support, alcohol and other drugs and mental health are areas Brendan is passionate about and his skills and experience have developed from a variety of client and family focused roles, facilitating groups and training, studies and personal experience. He enjoys facilitating support and educational groups and has training and assessor qualifications as well as being an accredited Mental Health First Aid Instructor.

Brendan believes education is fundamental to build personal capacity, for continued improvement and for positive change in our society. He is encouraged by building strong and resilient communities and values working from a strength-based, anti-oppressive and social justice framework.

Brendan enjoys living a healthy, holistic lifestyle and in his spare time you would likely find him training for triathlons or sitting in his favourite café sipping coffee.