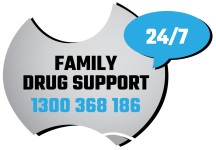 Family Drug Support Now Online for Families
3 April 2017
Tony Trimingham, the Founder and CEO of Family Drug Support (FDS), has described how proud he is with the development of the first Australian interactive online resource designed specifically to support families struggling to deal with drug and alcohol problems.
The new online resource will be available in coming weeks and was funded by the Commonwealth Department of Health through the National Ice Action Strategy. It has been produced by Readymade Productions in collaboration with FDS staff and volunteers.
The resource centres on documentary film of a family support group, and will be of particular benefit to families in regional and rural communities who don't have ready access to support group meetings. The new resource, together with FDS' 24/7 telephone support line, will help ensure every family can access support when they need it.
The resource is based on the very successful FDS model of the 5 Stages of Change in supporting families and friends of people using drugs.
Mr Trimingham stated – "FDS develops its programs in consultation with families and this is a critically important feature of our work. FDS has developed its knowledge base and experience from directly supporting tens of thousands of families over the past 20 years and this has informed this new online resource. Our model of supporting and assisting families coping with drug and alcohol problems has evolved over many years and we have complete confidence in its effectiveness."
Mr Trimingham added – "A core belief of FDS is the involvement of families in any resources and services being developed for families – to do otherwise is simply not acceptable for FDS. The model we have developed at FDS is an Australian model but its adaptability has been proven by the overwhelming international demand for the FDS model of working with families – particularly from the North American and Asian Regions. FDS not only has a long and successful history of working with families but also of working closely with people who use drugs, drug and alcohol service providers, research centres and the general community. All of which allows us to ensure we deliver what is best for families."
Research evidence has also confirmed the effectiveness of FDS programs with a key component of the FDS work with families - Stepping Stones (an education program for families) - being independently researched and evaluated as highly effective1.
The FDS Support Groups have also been independently evaluated and an excerpt from this evaluation provides an insight into the impact of FDS programs on families:
The qualitative feedback showed that the support groups have a powerful psychosocial impact and that people find they help to improve well-being and coping, and being literally a 'life saver' in some instances. Participants particularly valued the destigmatising of their experience, the reduction of isolation, coming to understand drug use – especially realising that it was 'not their fault', and the friendship, support and camaraderie of the groups. The compassion and knowledge of the group leaders was also highly valued, with some leaders singled out as offering an extraordinary level of support to families.2
A short 3-minute trailer of the new online resource demonstrates the style, scope and types of information that will soon be available for families online, and can be viewed at:
http://www.readymade.com.au/fds
The full online resource will include:
A film that follows the different journeys of a group of family members at various stages of dealing with drug use in their family
The interactions and insights that can occur in support groups
The progress that can be made by families in connecting with others and support services
An insight into services and education programs that are available for families
For further information, please contact:
Mr Tony Trimingham
Founder & CEO
Family Drug Support
0414-412-444
---
About Family Drug Support
Established by Tony Trimingham in 1997, Family Drug Support volunteers take around 38,000 calls to their support line every year.
The Service provides 24/7 support (Phone: 1300 368186) and support groups in capital cities and a growing number of regional centres.
FDS also offers the Stepping Stones course for families/friends supporting someone with drug and/or alcohol problems.
For more information, visit: www.fds.org.au
About Readymade Productions
Readymade's programs empower people to be agents of their own behavioural change – using robust interactive design centred on authentic, compelling films. Co-created with target audience focus groups, the programs prove effective with wider target populations because people see themselves reflected in these real stories. As a consequence, they deeply engage with the journey. The interactive program elements then guide them on their own pathway to behaviour change.
For more information, visit: http://www.readymade.com.au
---
1, 2 Coping with problematic drug use in the family: An evaluation of the Stepping Stones program- Drug and Alcohol Review (2015).